Harry sues Sun and Mirror publishers over alleged phone-hacking
By Tom Gillespie and Sanya Burgess, news reporters
Prince Harry has begun legal action against publishers of the Sun and the Daily Mirror over alleged phone-hacking.
Buckingham Palace said Harry had filed claims at the High Court over the alleged interception of voicemail messages.
News Group Newspapers, which owns The Sun and owned the now defunct News of The World (NOTW), confirmed it had received a claim, and said it had no further comment.
MGN Limited, which owns the Daily Mirror, Sunday Mirror and The Sunday People, has been revealed in court documents as the other company that has received a claim.
Sky News understands the allegations relate to historical phone-hacking.
Advertisement
The Press Association news agency reported the alleged hacking is "possibly dating back to the early 2000s and when he had a mobile telephone as a teenager."
The court documents reveal the claims were filed within minutes of each other on 27 September, shortly before the news broke that the Duchess of Sussex was taking action against the Mail on Sunday newspaper.
More from UK
Harry spoke about the "powerful forces" that led to his mother's death when he and Meghan announced she was suingover the publication of a private letter.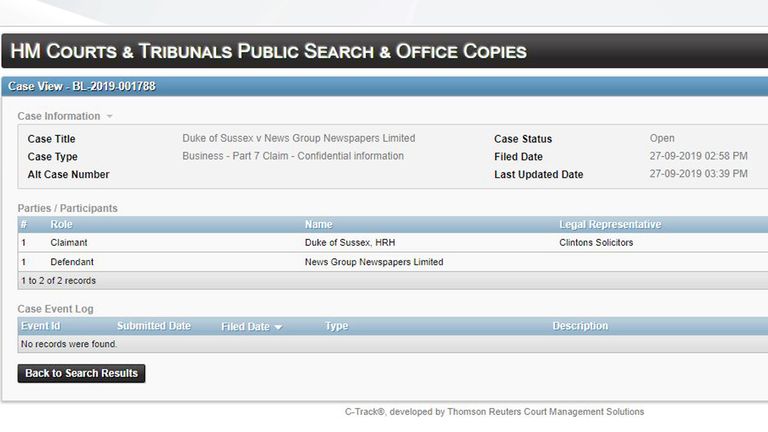 The phone hacking scandal led to the closure of one of the UK's most popular newspapers, the conviction of key journalists, a costly police investigation and the Leveson inquiry examining the culture, practise and ethics of the British press.
The scandal picked up pace after NOTW royal editor Clive Goodman and private investigator Glenn Mulcaire were convicted of illegal interception of phone messages in 2007.
The paper closed in 2011 following the revelation it had hacked into the mobile phone of murdered schoolgirl Milly Dowler, when she was abducted by a paedophile in 2002.
Sky News' royal correspondent Rhiannon Mills said: "This comes after what has been a tumultuous week when it comes to Prince Harry's relationship with the press.
"We found just a couple of days ago, while Harry and Meghan were on their successful tour of southern Africa, that the couple were launching legal action against the Mail On Sunday.
"That was after they published a letter which Meghan had written to her father following the fact he wasn't able to attend their wedding.