Markets
M&A excitement and falling pound put rocket under FTSE 100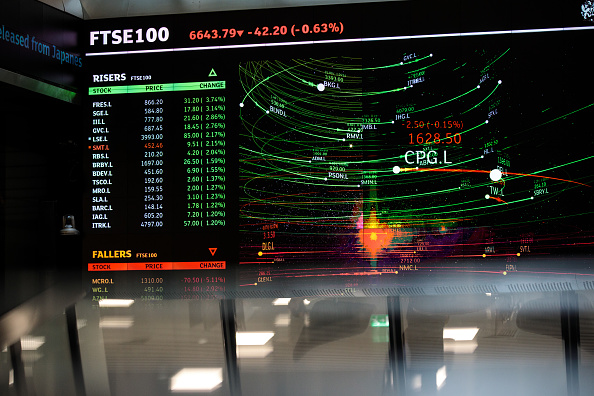 Britains FTSE 100 benchmark stock index has stormed higher due to investor excitement over mergers and acquisitions (M&A) and a sinking pound.
Read more: London Stock Exchange share price hits record high on Refinitiv takeover talks
The index climbed two per cent by 2pm UK time to stand at around 7,697, the highest it has been in just under a year.
Two possible acquisitions also cheered investors, sending the companies share prices higher and lifting the blue-chip index.
Food delivery service Just Eat looks likely to be taken over by Dutch firm Takeaway.com at an implied price of 731p per share after reaching an agreement in principle. This has sent its shares soaring by 27.2 per cent to 808.7p.
London Stock Exchange Group (LSE) appears set to buy financial data firm Refinitiv for $27bn (£22bn) including debt. LSEs shares jumped 15 per cent to a record high of 6,520p.
Top five FTSE 100 risers
Just Eat: +27.2% (808.7p)
London Stock Exchange Group: +15% (6520p)
Vodafone: +5.2% (153.7p)
Astrazenexa: +3.52% (7,148)
Rightmove: +3.26% (542p)
A tumbling pound, which has hit a new two-year low against the dollar on no-deal Brexit fears, has also helped lift the FTSE 100. It makes large companies foreign earnings worth more and exporters goods more competitive.
The pound fell one per cent against the dollar by 2pm to buy $1.226 after Prime Minister Boris Johnsons government made it clear that it is intent on leaving the European Union without a deal if the bloc will not re-enter negotiations.
No-deal Brexit talk "should serve to heap more pressure on the pound as we enter the trading week," said Neil Wilson of Markets.com.
Michael Hewson, chief market analyst at CMC Markets, said: "Takeaway.com already has a decent geographical presence across Europe, recently acquiring the German business of Delivery Hero, along with a business in Vietnam."
The deal "would signal a determination for the business to deliver economies of scale in regions where it currently has no presence, namely the UK, as well as Australia, Canada, New Zealand, Brazil and Mexico".
Helal Miah, investment research analyst at stockbroker The Share Centre, said the food delivery deal was "good news for Just Eat shareholdRead More