Cardi B Indicted on 2 Felonies in NYC Club Fight: Court Docs
What to Know
Rapper Cardi B has been named in a 12-count indictment in connection with an August fight at a strip club in Queens, court records say

Surveillance video shows her picking up an ice bucket and throwing it at two women working at the club during the wild melee, a source said

Earlier this year, a judge issued an order of protection against Cardi B and told her to have no contact whatsoever with the two sisters
Cardi B is being indicted on 12 counts, including two felonies, in connection with a fight at a New York City strip club last summer where she allegedly attacked two bartending sisters, according to public court records.
The Queens district attorney's office announced the indictment last week but kept the details sealed pending her arraignment Tuesday afternoon. Online court records associated with Cardi B's case, however, indicate the "Bodak Yellow" star will be charged with two counts of felony attempted assault with intent to cause serious injury. All the other charges, which range from harassment to criminal solicitation, conspiracy and reckless endangerment, are misdemeanors.
Two of Cardi B's friends are also named in the indictment, the complete details of which are expected to be revealed later Tuesday. The rap star allegedly orchestrated the attack on the sisters in retaliation against one whom she believed had slept with her then-husband Offset, sources have said.
The new charges came down just about two months after the "Bodak Yellow" singer declined a plea deal to an A misdemeanor — one that essentially would have gotten her off scot-free if she stayed out of trouble — in connection with the August 2018 fight in Queens.
Raw Video: Cardi B Escorted into NYC Court in Strip Club Melee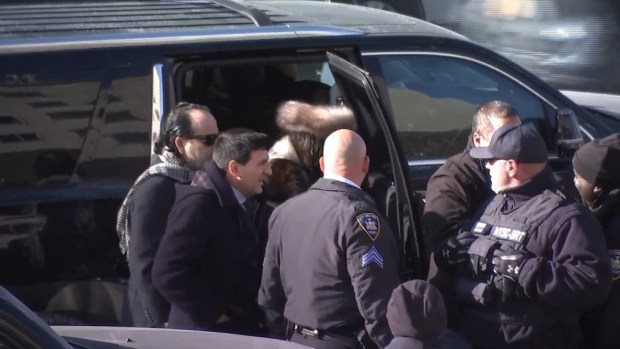 At a concert in Los Angeles shortly after the indictment news, Cardi B chanted "I'm not going to jail" on stage, saying she had a daughter. Her lawyer couldn't immediately be reached for comment on the indictment, but in a previous hearing, attorney Jeff Kern had said his client had no criminal record and he was "aware of no evidence that she caused anybody any harm."
It wasn't immediately clear if he had an updated statement ahead of her expected arraignment on the indictment.
Surveillance video shows her picking up an ice bucket and throwing it at the two sisters who were bartending, sources have told News 4.
In a previous hearing, a judge had ordered Cardi B to have no contact whatsoever with the two sisters and issued an order of protection for them. He also warned Cardi B to "please be very careful" with social media.
When he asked if all that was clear, the rapper nodded.
Born Belcalis Almanzar, and a former stripper herself, Cardi B was at the Read More – Source