America
Firefighter on Midtown Chopper Crash: 'Debris Field on Fire'
What to Know
The first firefighter to see the Midtown helicopter crash site described what she saw as a "debris field that was on fire"

"There was quite a bit of disintegration. There wasnt many whole pieces left," said FDNY Lt. Adrian Walsh

Walsh and the 140 other firefighters at the scene helped put out the flames within about 30 minutes
FDNY Lt. Adrian Walsh was leading Rescue Company 1 as the first firefighters to see the damage at the top of a Midtown high-rise after a helicopter crashed into the roof — and said what she saw was a "debris field that was on fire."
"There was quite a bit of disintegration. There wasnt many whole pieces left," said Walsh.
After climbing six flights of stairs to get to the roof, Walsh immediately let units on the ground what the situation on the roof was, in order to get the necessary resources up to the top of the 54-story building quickly — no easy task.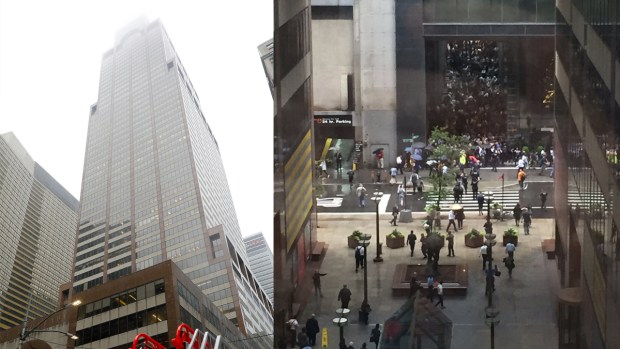 Helicopter Makes Hard Landing on Midtown Manhattan Roof
"When we got onto the roof, we had to pass along the outside. It was definitely flamed, it was just a debris field," said Walsh. "It was on fire in a contained area, which was very important for command to understand."
The crash occurred just before 2 p.m. Monday afternoon. A plane, believed to be piloted by Tim McCormack, had just dropped a passenger off at the East 34th Street heliport and may have been making his way back to Linden Municipal Airport when it crashed onto the roof of the AXA Equitable Center on Seventh Avenue and West 52st Street.
Pilot Identified in Midtown Helicopter Crash
Police Commissioner James O'Neill said the chopper was airborne for about 11 minutes before crashing.
Mayor Bill de Blasio, in a briefing near the crash site just before 4 p.m., said there was no ongoing threat and no evident ties to terrorism. But he also said authorities did not yet know a cause for the crash.
Officials were not sure why the helicopter was flying over Midtown without contacting the LaGuardia Tower — which aircrafts are required to do — or why it was flying in such poor conditions. At the time of the crash, the cloud ceiling height was around 600 feet, meaning it's likely the top of the building was enshrouded in clouds, according to the National Weather Service.
Witnesses Describe Loud Boom, Frantic Evacs After Chopper Crash
The Federal Aviation Administration said it was an Agusta A109E helicopter and a preliminary investigation indicated McCormack was the only person aboard. Air traffic controllers did not handle the flight, the FAA said, adding that the National Transportation Safety Board wRead More – Source