America
3 myths about Mexico and migration, debunked
Mexican President Andres Manuel Lopez Obrador counters that Trump's "America First" slogan is a fallacy, arguing the US needs to do more to respond to a regional crisis that's forcing desperate migrants to flee their homes.As both countries' top diplomats head to the negotiating table Wednesday with a deadline looming for them to make a deal, here's a look at some common myths about Mexico and migration — and what's actually happening south of the US-Mexico border:
Myth #1: Mexico hasn't done anything in response to the growing number of Central American migrants crossing its border.
Reality:Deportations from Mexico have been on the rise in recent months, and the country has launched several new efforts in response to the situation.In the face of Trump's threat, Mexican officials have been pressing hard in recent days to tout their efforts to step up immigration enforcement and using data to make their case.In a statement released Monday, Mexico's government said authorities there have deported 80,537 people since December. That's a 33% increase from the number of migrants Mexico deported in the previous six-month period (60,605 from June-November 2018) and a 54% increase from the same time period the previous year (52,359 from December 2017-May 2018), according to Mexico's interior ministry.Mexican authorities have also been apprehending more people, said Maureen Meyer, director for Mexico and migrant rights at the Washington Office on Latin America."They are certainly responding in a different way to the flow of people coming through Mexico," she said. "We've seen, actually, in recent weeks even more announcements of a crackdown in southern Mexico, and them even raiding a few hotels."Lopez Obrador, who took office in December, emphasized migrants' rights in his campaign and said he wouldn't do "dirty work" for the United States when it came to controlling immigration."You saw initially in the first two months of the administration, more humanitarian visas being offered and many fewer detentions and deportations," said Christopher Wilson, deputy director of the Mexico Institute at the Woodrow Wilson International Center for Scholars.But that's significantly shifted now, Wilson said. "Mexico started to increase those levels of detentions and deportations. They very quickly got back to the historic averages over the last several years, and in recent months have gone way beyond that. … They're now, within the last few weeks, detaining and deporting a huge number of Central American migrants. So the idea that Mexico is doing nothing is just patently false," Wilson said. "Could Mexico do more? Yeah, I think so. Is Mexico not doing anything? That's just absolutely wrong."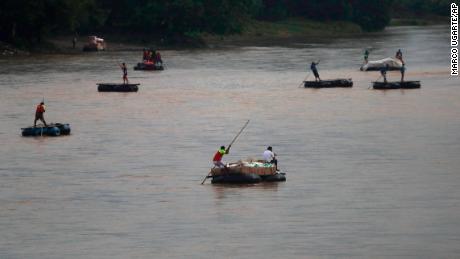 Beyond detention and deportation, Mexican officials have also been trying to address what they say are the root causes of migration and encouraging the US to support more development initiatives in Central America."President Trump: social problems are not resolved with tariffs or coercive measures," Lopez Obrador wrote in a letter last week. That's a message Mexican Foreign Minister Marcelo Ebrard will likely take to the negotiating table as well.
Myth #2: Most immigrants illegally crossing the US-Mexico border are Mexican.
Reality: Central American families make up the largest numbers of people apprehended after illegally crossing the US border.While the majority of single adults apprehended at the border are from Mexico, that number is far surpassed by the number of family members apprehended, according to US Customs and Border Protection statistics."These are not the single, male Mexican border-crossers that we saw in the '90s and 2000s," said Maureen Meyer, director for Mexico and migrant rights at the Washington Office on Latin America. "There's a very different face of migrants that, as we've seen at the border, presents a lot of different challenges."And for years, demographers have been pointing out that net migration from Mexico has actually slowed — meaning more Mexicans are leaving the United States than coming.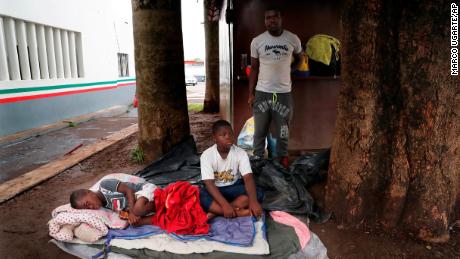 It's a common misconception to think that Mexicans make up the majority of undocumented immigrants crossing the border, Wilson said, adding that it's myth that could have serious consequences for policymakers."We're still thinking about migration with a vision that's maybe 20 years old at this point. We're not — as the public or even as policymakers — catching up fully," Wilson said. "The ground has shifted beneath our feet, and we're still operating as if it's the old world."
Myth #3: All Mexicans are pRead More – Source