America
Oil workers reveal a Venezuelan region crumbling despite its resources
Built in the 1960s, on the back of Venezuela's oil wealth, the bridge spans the inlet to the gigantic Lake Maracaibo. It is the kind of impressive infrastructure project that resource-rich countries like to show off. But as the bridge slopes down to the other side, it leads back to the reality of Venezuela's economic descent.After the bridge, cars line up for fuel on both sides of the road approaching Cabimas, an oil town of around 300,000 people.Cabimas carries a certain mystique in Venezuela. The rush to tap Venezuelan's thick, sludgy crude began here in 1922, with the launch of Los Barroso oil well. In historic photos, men in ties stand in front of the well, a spray of black gold surging from the ground behind them.Today overgrown grass has invaded the playgrounds of oil worker compounds. Crowds wait outside the bank for their daily limit of cash – normally around 6,000 Bolivares a day, which is less than two US dollars.Soldiers guard the biggest pharmacy in town. The second biggest pharmacy was looted last week by a mob seeking medicine and basic household goods, say managers.
"Nothing works anymore"
A group of oil workers with state oil company PDVSA want to take CNN to look at the nearby Salinas oil field."Populism finished all of this. Do you see this! Nothing works anymore," says Hector Berti, 48, referring to the aging oil infrastructure on the glasslike lake, "the government finished us completely."The oil workers say that the money intended to maintain PDVSA's equipment ended up elsewhere. They point to the thick layer of polluting oil sludge blanketing the shoreline of evidence of neglect.Successive Venezuelan regimes have tapped into the immense profits of PDVSA, which owns US refiner Citgo, to fund socialist programs in the country. But the US has also accused Venezuelan leaders of using the oil company to enrich their friends and family. Transparency international ranked Venezuela 160 of 180 countries in its 2018 Corruption Perceptions Index.President Nicolas Maduro has countered that the US is conspiring to undermine Venezuela, and blamed foreign terror attacks for infrastructure failures like power outages."This is the reason for the coup. They don't want us to get better. They sabotage us and try to destroy the economic system," he said.None of this seemed to matter as much when oil prices were high. Then came what the workers call "the black year": 2014, when oil prices began plummeting. From about $107 dollars a barrel in June 2014, the price of oil dropped to about $26 a barrel in February 2016.New, stiff sanctions from the US mean that Venezuelan oil also has fewer buyers now. In March, Venezuela exported zero barrels to the US, once its biggest customer.After decades working for the company Berti says he was fired just a few days ago by the company for speaking out. He and the others-who asked to remain anonymous for fear of reprisal-could be picked up by Venezuelan intelligence for talking to journalists.
"The math just isn't possible"
Venezuela's economy depended on oil. Its declining prices, and the country's subsequent hyperinflation, hurt both current and former PDVSA employees.Berti holds up an insulin dispenser and heart medication. He says he had to get it from an aid organization across the border in Colombia.All the men agree that they can't live on their pay in Venezuela. They say their salaries are now worth the equivalent of around seven US dollars a month. "The math just isn't possible," one says. A bag of rice costs around 4,900 Bolivares, or just over a dollar at current exchange rates.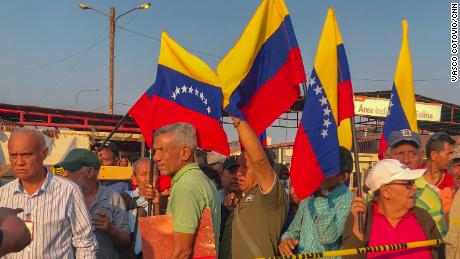 Households in Venezuela do receive the CLAP, the Local Committee for Supply and Production, a government handout of heavily subsidized basic goods given to Venezuelan families in a small cardboard box. But Venezuelans say it is not nearly enough.Outside the entrance to Salinas, several retired oil workers are protesting. They say inflation and corruption has made their pensions near worthless. Many hold up their company IDs—spanning the decades they gave to the job.One protestor, Africano Nixon, has brought dog food with him, which he says is the only food he can afford.Rodolfo Hernandez, 60, strapped himself with yellow tape to a makeshift crucifix made from an ironing board and a plywood. He worked for PDVSA for 37 years, he says, and neither he nor his his fellow retirees can afford vital medicines. Their pensions average about five dollars a month."I am crucified because many of my colleagues have died. And we don't want to suffer the same fate," he says.
Hernandez isn't angry at the government running PDVSA; he doesn't want the government of embattled president Nicolas Maduro to be overthrown. He says he just wants enough money to survive. Enough befitting of a man who helped build this country. Many of the workers seem to share that sentiment."We aren't guerillas," saRead More – Source