America
Rockefeller Center Christmas Tree Lights Up for 2018 Season
What to Know
The Rockefeller Center Christmas Tree is lit for the holiday season!

The tree will be lit every day from 5:30 a.m. to 11:30 p.m. until Jan. 7., except for Christmas Day, when it will be lit around the clock

The 75-year-old tree was donated by a couple in Wallkill, 60 miles north of New York City
The Rockefeller Center Christmas Tree burst alive with 5 miles of LED multicolored lights and a 900-pound Swarovski crystal star in a festive extravaganza broadcast on NBC Wednesday night.
Mayor Bill de Blasio flipped the switch Wednesday night to light the Rockefeller Center Christmas Tree following a televised extravaganza that featured performances by Diana Ross and Tony Bennett.
Police officers flooded the area and thousands of spectators were funneled through security screening.
The 75-year-old tree was donated by a couple in Wallkill, 60 miles north of New York City.
Rockefeller Center Christmas Tree Lights Up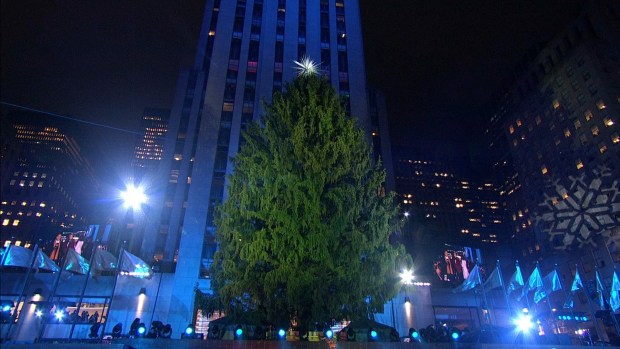 The tree's lights will be illuminated every day from 5:30 p.m. to 11:30 p.m. through January 6 and 5:30 p.m. to 9 p.m. on January 7, 2019. On Christmas Day, the Rockefeller Center Christmas Tree will be lit for a full 24 hours. You can watch the Rockefeller Center Christmas Tree live around the clock on our tree cam through January.
After the tree is taken down January 7, it will be milled into lumber for Habitat for Humanity.
Follow NBC 4 on Instagram, Facebook and Twitter for exclusive behind-the-scenes video and photos from the lighting ceremony.
Here are some historical facts about the Rockefeller Center Tree:
• 1931 – Construction workers building Rockefeller Center put up a Christmas tree, the first-ever Rockefeller Center Christmas Tree.
• 1933 – First formal Rockefeller Center Tree Lighting Ceremony. The tree was decked with 700 lights in front of the eight-month-old RCA Building.
Mary Altaffer/AP
• 1936 – Two trees, each 70 feet (21.3 m) tall, were erected. For the first time the Lighting Ceremony included a skating pageant on the newly opened Rockefeller Plaza Outdoor Ice Skating Pond.
• 1942 – Three trees were placed on Rockefeller Plaza, one decorated in red, one in white and one in blue to show support for our troops serving during World War II.
• 1949 – The tree was painted silver, to look like snow.
72-Foot Tree Arrives at Rockefeller Center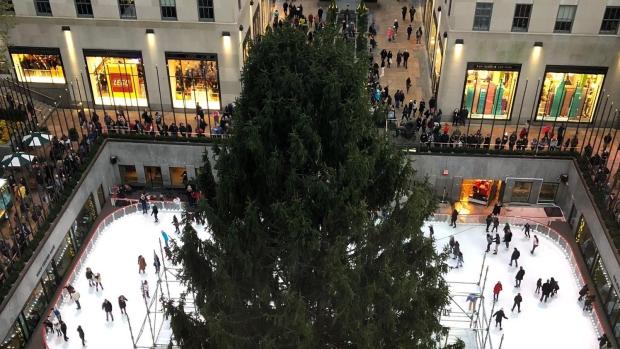 • 1951 – The Rockefeller Center Christmas tree was lit for the first time on national television on the Kate Smith Show.
• 1966 – The first tree from outside the United States was erected. It was given by Canada, in honor of the Centennial of its Confederation. This is the farthest distance a tree has traveled to Rockefeller Center.
• 1980 – For the 50th Anniversary of Tree Lighting, a 70 foot-tall (21.3 m) Norway Spruce came from the grounds of the Immaculate Conception Seminary of Mahwah, N.J. Bob Hope participated in the Lighting.
Dazzling New Swarovski Star Lowered Onto Rockefeller Christmas Tree
• 1999 – The largest tree in Rockefeller Center history, 100 feet tall (30.5 m), came from Killingworth, Conn.
• 2004 – The Swarovski-designed star became the largest star to ever grace the tree.
• 2007 – For the first time, the tree was lit with energy-efficient LEDs. They draw a fraction of the power that had been traditionally required by the tree, reducing energy consumption from 3,510 kwH to 1,297 kwH per day, saving as much energy as a single family would use in a month in a 2,000 square foot (185.8 m²) home. Hundreds of solar panels atop one of the Rockefeller Center buildings help power the new LEDs.