America
Gunman Hit, Killed in Rival Gang Courthouse Chaos: Official
What to Know
One man is dead and four others were detained after a courthouse brawl turned violent on Staten Island on Tuesday

An official says the man who was killed fired at people in a van, who in turn hit him and pinned him to the side of a bed and breakfast

Sources say police are looking into whether a woman who was shot and killed several blocks away was hit by a stray bullet from the chaos
An alleged gunman is dead after a brawl between gang members outside a courthouse on Staten Island ended with members of a rival crew using a minivan to ram him into the side of a bed and breakfast, according to a law enforcement official.
Police also investigating whether a 67-year-old woman who was fatally shot in the face at a bus stop several blocks away was hit by a stray bullet amid the chaos at the Richmond County Supreme Court house in St. George on Tuesday morning, according to law enforcement sources.
It all began when four people — members of rival crews — bumped into one another outside the courthouse ahead of hearings and began fighting, according to one official.
Court officers broke up the brawl and sent the men to their respective hearings, but the the confrontation didn't end. After the proceedings ended, one man began firing at a possibly stolen van carrying the other three men. He then took off running.
Woman Shot by Stray Bullet at Staten Island Bus Stop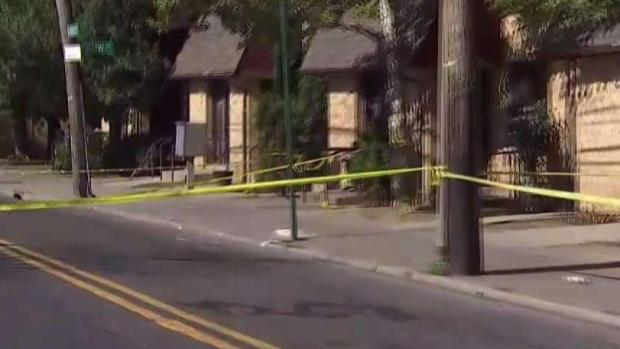 The van sped off after the gunman, according to police and the official. When the man was a few blocks away from the courthouse, the van ran him down and pinned him between the hood and the side of a bed and breakfast on Fort Place.
The man was pronounced dead at the scene.
The official said that court officers made the initial arrests after the van slammed into the building; police later said four people in all were taken into custody. Charges haven't yet been announced.
Finally, police got yet another call several blocks away — on Jersey Street — about a 67-year-old woman who was unconscious with a gunshot wound to the face. Two law enforcement sources said that the woman may have been struck by a stray bullet from the courthouse flap.
She was pronounced dead later Tuesday afternoon.
The official said that the leading theory is that the violence wasn't premeditated, and that the two crews were in a coincidental run-in at the courthouse.