America
44-Year-Old NYC Woman in Liberty Climb Faces Federal Hearing
What to Know
A woman climbed the Statue of Liberty Wednesday, forcing an evacuation of Liberty Island as police responded

The woman was part of the Rise and Resist New York group, which earlier had unfurled a banner reading 'Abolish ICE' at the statue

She was a lone actor, the group says; it took NYPD ESU hours to get to the woman and bring her down
The 44-year-old Staten Island woman who scaled the Statue of Liberty during a Fourth of July protest is due in Manhattan federal court Thursday afternoon, hours after the group that unfurled an "Abolish ICE" banner on the patriotic icon said they "love and respect" the "amazing woman" for what she did.
Therese Patricia Okoumou was captured Wednesday after an hourslong standoff with police who tried to coax her down. She climbed the statue around 2 p.m. that day, after protesters from Rise and Resist New York unfurled an "Abolish ICE" banner there; she made it to Lady Liberty's base.
Liberty Island, crowded with more than 4,000 visitors on the holiday, one of its busiest — if not the busiest — tourism days of the year, was evacuated. Parks officials say Statue Cruises will handle all refunds and ticket exchanges.
Meanwhile, the focus is turning in part to security. Parks officials say they believe Okoumou likely climbed from a ledge over one of two public entrances to the deck from what's known as the 6P level of the monument, which is the highest level people can access with pedestal tickets. There are park police officers and rangers in that area, but no alarms were triggered when Okoumou went out on the deck because it is accessible to the public.
Statue of Liberty Climber Due in Federal Court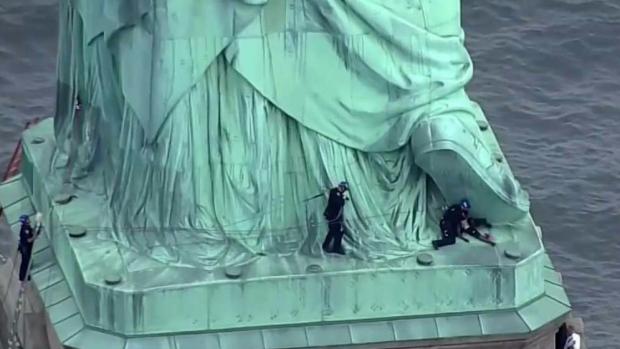 As for how she got up to the base, Rise and Resist members who know her said she simply free-climbed the statue, adding: "She must be very skilled."
Okoumou was seen at various points pacing back and forth on the base of the statue, then lying down and casually kicking her legs. Police officers watched from below as they attempted to coax her down, then brought out a ladder and other climbing gear to physically get to her. NYPD's highly trained emergency services and aviation units responded along with U.S. Park Police.
Okoumou is facing federal misdemeanor charges including trespassing, disorderly conduct and interfering with government functions, according to the National Park Service. Rise and Resist says it has arranged "expert legal options" for the court process.
The group which initially denied any connection to the climber, later claimed her as a member and said she had been to meetings in New York. They described her actions as "rogue," though, and said that had not been part of the planned protest. They later issued a statement calling Okoumou an "amazing woman."
"Patricia is our friend, our comrade, our sister," the statement said in part. "From the moment that we realized that this amazing woman whom we have gotten to know, love, and respect was the person who had climbed to the foot of Lady Liberty, we had three concerns: one for her safety from falling, second, for her safety as a woman of color who was about to be engaged by law enforcement, and third, to find her the best legal representation that we could."
Hours after the response began, two ESU officers, detectives Brian Glacken and Chris Williams were able to make it onto the base where Okoumou was.
ICE Protester Caught After Scaling Statue of Liberty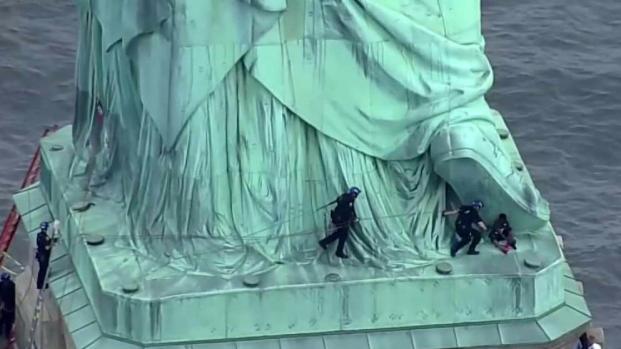 "We just tried to get a dialogue with her while she was up there," Glacken told reporters at an evening briefing, saying the woman was talking about "the children in Texas."
She was combative and unfriendly at first, threatening to push the officers and the ladder off, Glacken said. But the officers were persistent and continued speaking with her, and were able to establish a rapport with her.
"I think the turning point was when we got her, she couldn't go any further, and I think she realized her time was up up there,"said Glacken.
"She actually apologized to Chris and I for having to go up there to get her," he added.
The rescue was also highly technical because of the slopes and angles around the base of the statue: "There was nothing for Chris and I to grab onto," said Glacken. "So that high point, and trusting the equipment that we have and trusting the guys behind us is what made it work."
Sixteen ESU officers in total were staked out at the statue during the response.
APJulio Cortez
Earlier, seven people were arrested by the United States Park Police after unrolling the "Abolish I.C.E." banner at the statue. They will be charged with unlawful protest, U.S. Park Police said.
The protest came a week after a Wisconsin congressman introduced legislation to abolish the ICE in a demand for change that has become a campaign cry for some Democrats this primary season.
U.S. Rep. Mark Pocan, D-Wis., introduced the bill following a trip to the southern U.S. border, where he noticed the "cruel, inhumane and un-American policies taking place at the border that are now a direct result of actions by [President] Donald Trump."
Annette Guadino, a Rise and Resist member who participated in the Statue of Liberty protest, said, "The tearing apart of families, the militarization of the border, the deportations of people who have been living in their communities and working hard for decades, being ripped away from their families — it's completely unnecessary, it's a manufactured crisis, and it stands against everything that the Fourth of July and the Statue of Liberty stand for."
"So we understand that people were inconvenienced today, and we're also concerned for the safety of the woman that is climbing, but sometimes you have to be daring to get the message out," she said Wednesday.