America
Excessive Heat Warning Issued Ahead of Predicted Heat Wave
What to Know
The tri-state is bracing for a heat wave that will start Friday and could last through the start of next week, Storm Team 4 says

Saturday and Sunday will be the hottest days, with heat index values near or at 100 degrees, meteorologists say

The stifling heat slightly breaks by the Fourth of July, but temperatures will likely remain the upper 80s
An excessive heat warning has been issued for New York City, Westchester, Nassau County, Southern Connecticut, the Hudson Valley and parts of New Jersey, according to the National Weather Service.
The warning will be in effect from 6 a.m. on Sunday to 6 a.m. on Monday. Temperatures could reach 105 or 106 degrees, according to NWS.
A heat wave the likes of which the tri-state area hasn't seen in nearly two years — a five-day stretch of 90-degree-plus temperatures — was expected to begin its near week-long assault on the region Friday and will likely last up to the Fourth of July, Storm Team 4 says.
Temps Friday reached the low 90s in parts of the city and New Jersey by early afternoon, but the mercury is expected to really crank up over the weekend. The temperature in Central Park reached 90 degrees on Saturday afternoon. The mercury climbs to the high 90s Sunday, the day of the city's triathlon. The "feels like" temps could reach well over 100 degrees.
Forecast for Friday, June 29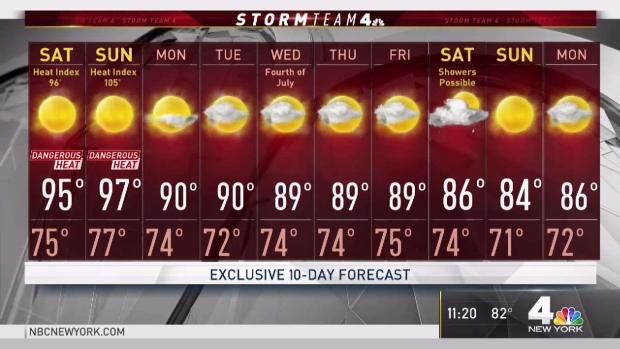 Heat waves are the deadliest weather hazards in the U.S., with 134 fatalities annually over a 30-year average, compared with the second deadliest hazard floods (30-year average is 85). Anyone particularly vulnerable to the heat is advised to stay indoors as much as possible or take adequate precautions. The city also says people should make sure to check on elderly neighbors and make sure their pets are protected.
Cooling centers and NYC pools are open and available to catch much-needed relief from the dangerous heat. A heat advisory is in effect for the tri-state area from 12 p.m. Saturday through Monday, when temps are expected to drop back into the mid-90s, though that won't be much respite amid stifling humidity.
The stifling heat is expected to break slightly by the Fourth of July, but temps will still remain in the high 80s. The chance for isolated storms returns early next week, Storm Team 4 says.
The last five-day heat wave recorded in Central Park was from Aug. 11-15 in 2016. The longest heat wave record ever recorded was back in August and September of 1953, which lasted for 12 days. The longest one in June was eight days, dating all the way back to 1901.