Africa
At least 48 people dead after migrant boat sinks off Tunisian coast
Dozens of others were rescued by the Tunisian coast guard, which also recovered the 48 bodies, the country's interior ministry said in a statement. The boat was 16 nautical miles off the Sfax coast — 170 miles south of the capital Tunis — when it sent a distress signal at 10:45 p.m. local time (5.45 p.m. ET) on Saturday, the interior ministry said.People trying to reach Europe frequently use Tunisia — which neighbors Libya — as a starting point, often making the journey in overcrowded, makeshift boats heading for Sicily, around 250 miles away.Wael Ferjani, a Tunisian man who survived the wreck, told AFP that the boat's capacity was "75 to 90 people maximum, but we were between 180 and 190 on board.""Water was coming into the boat," he said. "Those who could escape fled, others drowned. We stayed there until almost 5 a.m., then fishermen came to help us, and then the army arrived."At least 60 of those rescued were Tunisian, the ministry said, while TAP reported that at least 80 of those on board are believed to be from sub-Saharan Africa.Search-and-rescue operations are continuing and the death toll is expected to rise. The Sfax public prosecutor has ordered an investigation into the incident, according to TAP.Another nine migrants, including six children, died after their boat sank off the southern coast of Turkey early Sunday morning, the Turkish coast guard said in a statement. Six others were rescued and at least one person is still missing.At the western end of the Mediterranean, a further 240 people were rescued over the weekend by Spain's maritime rescue agency. "One person died before he could be rescued," the agency wrote on Twitter.
World's deadliest migration route
The number of people trying to reach Europe by boat from Turkey and northern Africa has fallen significantly in the past two years.The drop is ascribed partly to two controversial deals: one struck in March 2016 between the European Union and Turkey — under which Syrian refugees arriving in Greece from Turkey are sent back — and another made last year between Italy and Libya, in which the southern European country pledged to bolster Libya's coast guard so it could spot departing migrant boats and house migrants attempting to cross.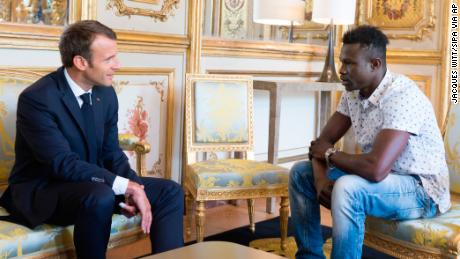 Italy's new government — a coalition between the anti-immigrant League and anti-establishment Five Star Movement — has pledged to crack down even further on those seeking to enter Italy and to deport half a million migrants from the country.During a visit to Sicily on Sunday, the country's new Interior Minister and League leader Matteo Salvini said that Italy and Sicily "cannot be Europe's refugee camp" and accused Tunisia of exporting "convicts" to Europe."Some think I want people to die at sea," he said. "Maybe they didn't understand: life is sacred, but the best way to save their lives is to prevent them from boarding those ships."Aloys Vimard, project coordinator on the Aquarius, a search-and-rescue ship in the Mediterranean run by Doctors Without Borders and SOS Méditerranée, disagrees. "Containment and deterrence doesn't work," he told CNN. "It doesn't save lives — it just encourages people to take bigger risks.""Many of them know the risks they take, but they tell us they don't have any other choice," he added.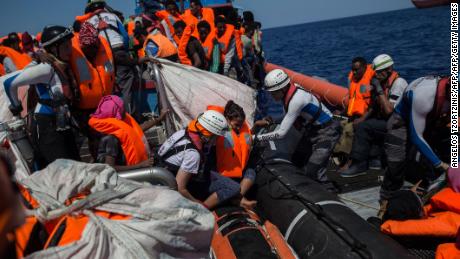 Although the number of people attempting the crossing has fallen — by more than 50% since last year alone — the Mediterranean is still the world's deadliest migration route, according to data collected by the UN Migration Agency.Between January and May this year, around 660 people died en route, compared to 87 at the US-Mexico border and 82 in sub-Saharan Africa.Vimard is also concerned that migrants who are picked up by the Libyan coast guard and returned to Libya are being condemned to a cycle of violence, trafficking and abuse. Last year, a CNN investigation exposed the reality of the migrant slave markets operating in Libya, and last month, the UN Refugee Agency warned that many people fleeing war and persecution are falling prey to criminal networks in the country."If Italy and the EU continue to place politics above people's lives, it will only lead to more loss of life," Vimard said.
CNN's GIanluca Mezzofiore contributed to this report.