Tech
MPs warn Zuckerberg of 'formal summons'
Mark Zuckerberg could face a "formal summons" to appear before MPs the next time he travels to the UK, as the scandal over its use of user data continues.
Facebook's founder and chief executive has turned down requests to give evidence to a committee investigating fake news, sending deputies instead.
At the time, Damian Collins, the chairman of the Digital, Culture, Media and Sport Select Committee, said it was "absolutely astonishing" that Mr Zuckerberg was declining to answer MPs' questions.
He had been asked to appear following allegations that Facebook facilitated election consultancy company Cambridge Analytica capturing the data of 87 million users.
:: Cambridge Analytica: "We're not villains"
Mr Collins has now written to Facebook again to re-invite Mr Zuckerberg to appear before the committee, stating: "It is worth noting that, while Mr Zuckerberg does not normally come under the jurisdiction of the UK Parliament, he will do so the next time he enters the country.
"We hope that he will respond positively to our request, but if not the Committee will resolve to issue a formal summons for him to appear when he is next in the UK."
If Facebook's chief executive refuses to appear before MPs after being issued with a formal summons, he could be found to have committed "a contempt" against the House of Commons.
However there is no statutory sanction available for people who are found guilty of contempts.
:: Facebook expects more data abuses will be discovered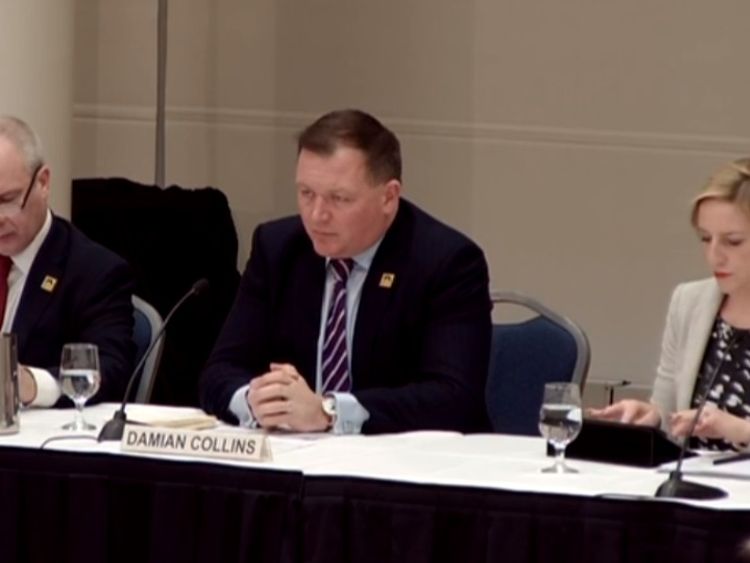 Writing for the Institute for Government, Dr Hannah White said: "Historically, those found guilty of contempts could be fined or imprisoned, but those sanctions have not been used by the Commons since 1666 and 1880 respectively.
"For all sorts of practical, legal and constitutional reasons, it is highly doubtful that the modern House would seriously consider this."
Mr Collins has said that Facebook must provide answers after an investigation alleged Cambridge Analytica, a British political campaigns firm, potentially unlawfully acquired and kept information about users.
More from Facebook
The UK's data privacy regulator, the Information Commissioner's Office, is now investigating whether British people were among the Facebook users who had their rights breached by the deal.
At the moment, about a million users in the UK are believed to have been affected and three million in total in the EU.