Africa
Crowds celebrate Winnie Mandela's life at Soweto memorial service
The memorial in Soweto comes ahead of a funeral service to be held on Saturday.Madikizela-Mandela died in a Johannesburg hospital on April 2 at the age of 81, after what her family said was a long illness. She was known as the "Mother of the Nation" because of her struggle against white minority rule in South Africa. Singing echoed round the Orlando Stadium in Soweto township as the mourners, some dancing as they sang, remembered Madikizela-Mandela's life in a lengthy service. Many were clad in the black, green and gold of the ruling African National Congress political party, some in T-shirts with an image of Madikizela-Mandela. Among the many to pay tribute were Deputy President David Mabuza, South African Energy Minister Jeff Radebe and Rita Ndzanga, a close family friend and fellow anti-apartheid activist.Mabuza recalled Madikizela-Mandela as a "unifier and a visionary of note" who had championed reconciliation, and said her lasting monument would be "for all South Africans to unite behind the vision of a united, non-racial, non-sexist, just and prosperous society."He also recognized the example she had been to many women. "You taught young women across the nation that they are just as capable, if not more capable, of standing shoulder to shoulder with men and being totally unapologetic about it," Mabuza said. "Till death, you knew who your enemy was: racial domination, class exploitation, gender oppression."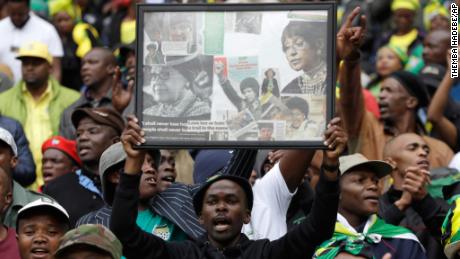 Madikizela-Mandela's grandson, Bambatha Mandela, said it was a time for mourning but also a time to celebrate the life of an "extraordinary woman" who was "a mother, a soldier, an icon."He paid tribute to her efforts in support of his grandfather and criticized those who questioned her legacy. "Behind every great man is a greater woman. Umama was the embodiment of that quote," he said, using a local word for mother.Bambatha Mandela added that his grandmother had never moved away from Soweto, as many others had, because she wanted to live among the people for whom she had fought.Several of Madikizela-Mandela's great-grandchildren also spoke in remembrance of her. "Big mummy, we all love you," said one."Fellow South Africans, we have lost a mother, we have lost a friend," said Madikizela-Mandela's personal assistant, Zodwa Zwane.Madikizela-Mandela was married to Nelson Mandela for 38 years, including the 27 years he was imprisoned on an island near Cape Town.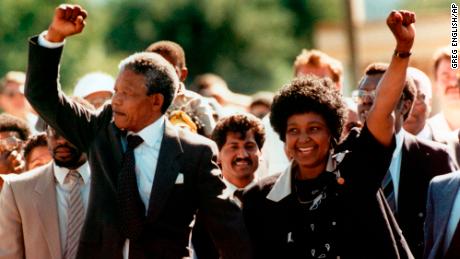 A longtime stalwart of the ANC, she was a member of South Africa's parliament at the time of her death.ANC Deputy Secretary General Jessie Duarte said Madikizela-Mandela had loved the party and that her life's work of "returning the land to the people" must continue. "This is our hero, this is our heroine, we know her worth — she gave everything to us," Duarte said. One of the last official visits the anti-apartheid activist received was from current South African President Cyril Ramaphosa, who went with her to Soweto township last month to encourage people to register to vote in next year's presidential election. Following her death, Ramaphosa praised Madikizela-Mandela as "an advocate for the dispossessed and the marginalized" and "a voice for the voiceless.""Even at the darkest moments of our struggle for liberation, Mam' Winnie was an abiding symbol of the desire of our people to be free," Ramaphosa said in a statement. "In the midst of repression, she was a voice of defiance and resistance. In the face of exploitation, she was a champion of justice and equality."Born in 1936 in what is now known as Eastern Cape province, Nomzamo Winifred Madikizela was the daughter of a history teacher. As a 22-year-old social worker, she married Nelson Mandela in 1958, and stood by him in the years following his 1964 conviction and life imprisonment for sabotage and conspiracy to overthrow the government.Madikizela-Mandela led an international campaign calling for his release.Outside Africa, Madikizela-Mandela was known largely because of her ex-husband, but in South Africa she was the mouthpiece and face of the bitter struggle against the racist regime.Although Madikizela-Mandela helped usher in a new, more equitable South African political system during her lifetime, she was also entangled in a number of scandals over the years.
CNN's Eleni Giokos reported from Soweto and Laura Smith-Spark wrote from London. CNN's Robyn Curnow, David McKenzie and Hilary Clarke contributed to this report.