America
Minimum wage hike will axe 400k jobs in California – study
A study conducted by the Employment Policies Institute states that a hike to a $15/hr minimum wage will cost California 400,000 private sector jobs. Workers in two industries in particular are purportedly the most vulnerable.
On January 1, California's minimum wage will increase to $11 per hour, up from the current level of $10.50 per hour for businesses with 26 employees or more. After 2018, the Golden State will increase the minimum wage by $1 every year until 2022, when it will reach $15 per hour.
A new study, conducted by EPI, a fiscally conservative group, analyzed employment trends from 1990 through 2017, and revealed that every 10 percent increase in the minimum wage in California has resulted in a 2 percent decrease in employment. The impact was larger for lower-paid workers, as the decline rate hit 5 percent for each 10 percent increase in the minimum wage.
Read more
The job losses represent 4.1 percent of employment in the counties studied in California. The most populated counties in the study will see the largest number of workers losing jobs, as smaller counties will see a bigger percentage of workers losing their jobs.
Through the study, EPI acknowledges that for-profit companies could "respond to higher minimum wages in ways that cause divergent effects," but stated "what is not in dispute" is that "rising minimum wage has depressed employment opportunities in the most heavily-impacted industries."
The report goes on to mention two specific industries that will be affected by the wage hike: accommodation and food services, and retail trade, where "slightly more than one-half of the job loss is projected."
Separate study finds 'negative & positive effects offset'
The Institute for Research on Labor and Employment (IRLE) at UC Berkeley discovered through a study of their own earlier this year that a higher minimum wage would add around 13,000 jobs to the Golden State's economy by 2023. Without this increase, IRLE estimates employment would only grow 1.4 percent annually.
The IRLE also admits that raising the minimum wage can have negative consequences.
"A higher minimum wage induces some automation, as well as increased worker productivity and slightly higher prices; these are the negative effects," the group stated.
However, the IRLE added: "A minimum wage increase simultaneously reduces employee turnover, which reduces employers' costs, and it increases worker purchasing power, which stimulates consumer demand. These are the positive effects. As it turns out, these negative and positive effects on employment largely offset each other."
Restless in Seattle? Workers losing hours, study finds
Another study released this year was conducted by a group of economists from the University of Washington, and commissioned by the city of Seattle, to review the effects of the Seattle City Council's vote in June 2014 to gradually increase the minimum wage to $15 per hour by 2021.
Read more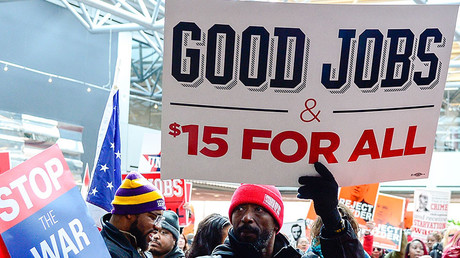 The economists in this study found that low-wage workers lost an average of $125 a month due to the wage hike.
Some employers in the city said they were not able to meet the demands of higher wages, as a result of the increase. This study was significant due to the fact that the economists had access to data from the state of Washington on workers' earnings and hours.
However, as the prospects of an increasingly automated workforce and higher costs are often cited as bad for rising employment, Another study has concluded with the exact opposite findings.
On January 1, 2017, Massachusetts and Washington became the country's first states to implement an $11 per hour minimum wage. However, topping that figure on the same day, was the District of Columbia, which raised their minimum wage to $12.50 per hour.
The post Minimum wage hike will axe 400k jobs in California – study appeared first on News Wire Now.