NYC Grants Aim to Make Off-Broadway Theaters More Accessible
What to Know
NYC is giving grants to Off-Broadway and other small theaters to make them more accessible to individuals with hearing loss, blindness

The Mayors Office of Media and Entertainment announced it will be providing $100,000 to cover the cost of installing GalaPro software

According to the latest Census data, more than 185,000 New Yorkers are hard of hearing
With the hope of making theatrical performance more accessible to individuals with hearing loss and blindness, New York City is giving grants to Off-Broadway and other small theaters in order for them to install special software that allows patrons to follow along performances with smartphones and tablets.
The Mayors Office of Media and Entertainment, or MOME, announced Wednesday that it will be providing $100,000 to cover the cost of installing GalaPro software in select theaters throughout New York City.
"New York City is world-renowned for its theatrical offerings, from Broadway to off-Broadway to off, off-Broadway," Julie Menin, Commissioner of Media and Entertainment, said in a statement. "We are delighted to partner with GalaPro and the Citys theatrical community to ensure that the theatre-going experience is available and enjoyable to all New Yorkers, regardless of their abilities."
GalaPro uses voice recognition technology to provide real-time closed captioning or audio description of stage action on users smartphones or tablets.
MOME notes that in order to avoid distracting others nearby, the app emits no backlight and the captions appear in either pink or gray. Additionally, the device must be set in flight mode and use a dedicated closed WiFi network.
MOME is offering to reimburse theatres for the costs of a free one-time installation of the software, however, theaters have to meet certain guidelines.
According to the city, in order to be eligible for reimbursement, theatres must be fully operational in New York City for a minimum of five years and companies must produce or host 4 to 6 productions per season, with a run of at least 20 days.
Theatres offering residency programs and those renting affordable theatre space to other producing companies may also qualify if 4 to 6 productions per season can be guaranteed.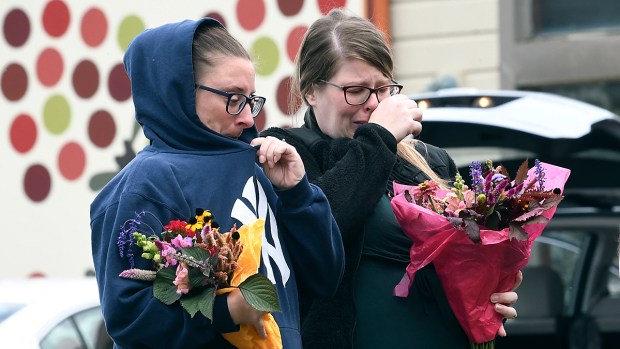 Top News Photos: 20 Dead in Birthday Limo Crash
GalaPro has already been installed in a number of Broadway theaters, including all 17 Shubert theatres and all Roundabout theaters on- and off-Broadway. Additionally, the software has been installed in the Lincoln Center's Vivian Beaumont Theater, the Lyric Theatre, and some Nederlander venues.
However, Playwrights Horizons is the first theatre to participate in the MOME program.
"We believe that making every performance inclusive is a true game changer for everyone utilizing our services," Yonat Burlin, GalaPro CEO, said.
According to the latest Census data, more than 185,000 New Yorkers are hard of hearing.
Theaters have held and will continue to set special dates for performances geared for the deaf and hard of hearing communities through the use of professional American Sign Language (ASL) interpreters, according to the MOME.
"The theatrical stages of New York City have long been a home to diverse ideas, characters and backgrounds of the many cultures that make our city so great," Victor Calise, Commissioner of the New York City Mayor's Office for People with Disabilities, said in a statement. "To continue this celebration of diversity, we cannot forget about people with disabilities both on and off the stage."