Swimmer left unaware of 'imminent' warship threat
Lewis Pugh is taking on a huge challenge by swimming the length of the Channel – some 350 miles (560km) from Cornwall to Dover.
He hopes to complete the swim in 50 days, but is sure to face challenges and setbacks along the way.
Check back here every day as Lewis sends in his thoughts, photos and updates on exactly how far he has managed to swim.
Pinch and zoom into the map below, and click on each point to plot where he finishes every day.
:: Day nine – 5.4 miles (8.7km)
"This is the German warship Augsburg, we are about to commence gunnery practice, please avoid the following coordinates…"
A panic shot round the crew as the radio crackled to life and they heard a thick accent announcing there was a military vessel only a couple of nautical miles away on our port side.
The crew radioed in for a repeat of the coordinates, frantically trying to calculate if they were within radius, and I was completely unaware of the potential imminent threat.
After a few minutes of uncertainty, the skipper confirmed our boat was not in Augsburg's path, but I was keen to speak to the crew about the impact this will have on marine life and how we need protected areas in place to ensure the regeneration and long-term sustainability of fish stocks.
Navies are going to have start thinking in terms of protecting natural resources.
Before that drama, I was joined by guest swimmers Matias Ola and Jackie Cobell – both of whom are renowned open water swimmers.
I had a strong swim in the morning, with fewer jellyfish than normal, but we are now on the neap tide rather than the spring tide, so with half a knot of current behind me it's much harder to make progress each day.
Matias joined me for the first hour and it was like swimming with a swordfish. He is Argentina's best open water swimmer.
Jackie joined for the last 10 minutes and was magnificent. I was thoroughly impressed by her style and perseverance.
She swam the longest Channel crossing at 28 hours and 44 minutes when she was 56 years old, and in my view, the person who swims slowest is the greatest as they need the most grit and are immersed in the cold for longest.
After the swim we transferred from the Aquila to the Princess speed boat to rush to Plymouth for the lord mayor's tea reception to welcome me home.
The sea state was slight to moderate, but combined with a force-three wind, there was kitchen cutlery and crockery flying everywhere and several people on the verge of being seasick over the side.
The nasty chop in the sea meant the transfer nearly ended with several crew members overboard, with many wet feet and a couple of green faces.
We are now all safely aboard the Princess and are speeding home to Plymouth ready for an afternoon of celebration.
Aquila is sailing behind us and will take several hours to reach harbour. Me and the crew will be using the Princess for the next few days to continue swimming, as it is much faster.
:: Day eight – 5.1 miles (8.3km)
Especially large jellyfish were out on force this morning, with two new species spotted that looked particularly nasty.
Another first for today was a shark sighting! We are unsure of the species, but the crew saw its fin pointing out the water about 30m from the starboard side (luckily opposite to me).
Thankfully, it didn't seem to spot or be interested in me so we kept going and the crew only told me once I was out.
I have developed a cold so the morning's swim was tough going. I am resting as much as I can now before the weekend, which sees me and the crew attending events in my hometown of Plymouth, so we have a jam-packed schedule.
On our way back for our last day in Falmouth now.
:: Day seven – 5.75 miles (9.26km)
I was joined by my first guest swimmer today!
Chris Coleman, who is deputy head of Taunton School, is a Channel relay swimmer and has championed open water swimming with his pupils.
We are hoping some of the pupils might join us further into the journey.
There was another sunfish sighting today, while some dolphins came right up to our boat's hull.
For now, we are continuing with a strategy of one swim a day.
:: Day six – 5.3 miles (8.5km)
The morning swim today was great.
I smashed out 5.3 miles (8.5km) and the plan is for this to be the only swim of the day.
There were no wildlife spots this morning and only a very small number of jellyfish, but there were lots of fishing boats out that I had to navigate around.
We are now motoring on towards Falmouth for a bit of a recovery day after all the excitement of meeting Prince Charles on Monday.
:: Day five – 6.6 miles (10.6km)
Met Prince Charles today – in my shorts and flip flops.
I was a keynote speaker at the Ocean Plastics Solutions Day at St Agnes in Cornwall, organised by Surfers Against Sewage.
The Prince of Wales listened attentively as I explained what we were doing, and why it is important to make sure the oceans are as clean as they can be, as we battle problems like single use plastics.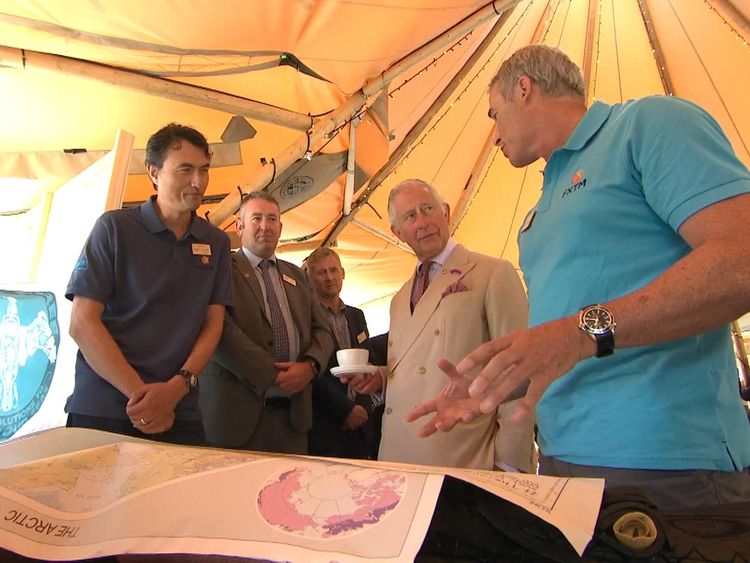 Not ideal conditions today – there were lots of jellfyfish blooms and rain squalls along the way.
Yesterday's final swim was a disappointment. We picked the wrong current to follow around the last section of The Lizard – the most southerly point in Great Britain – so after one hour and 20 minutes of hard graft, I'd made virtually no progress.
After the poor swim, we anchored out at sea so we could catch an early tide this morning.
However, we finally found success! Our craft's skipper, Stephen Praetorius, and I managed to locate the missing offshore current, which meant I could fly 3.4 miles (5.5km) in one hour and 20 minutes.
We are now back on track and we are definitely one happy crew again.
My support vessel Aquila has travelled to Falmouth for much needed water and supplies. We are now down to our emergency water rations.
I went out again this evening and swam straight into a good current, swimming 3.2 miles (5.1km).
A pod of four dolphins including two young ones joined me for a few minutes, and were only metres away.
I could hear their clicking under the surface.
:: Day four – 4 miles (6.5km)
Today was a crucial day for the first week of The Long Swim.
I rounded Lizard Point, the most southerly point in Great Britain and a place renowned for its treacherous waters.
Although things appeared calm on the surface, they were rather more turbulent underneath.
Whirlpools and eddies caused an up-swelling of cold water. The temperature when the swim began was 16C (61F), and when I came out of the water after 79 minutes it had dropped to 12C (54F).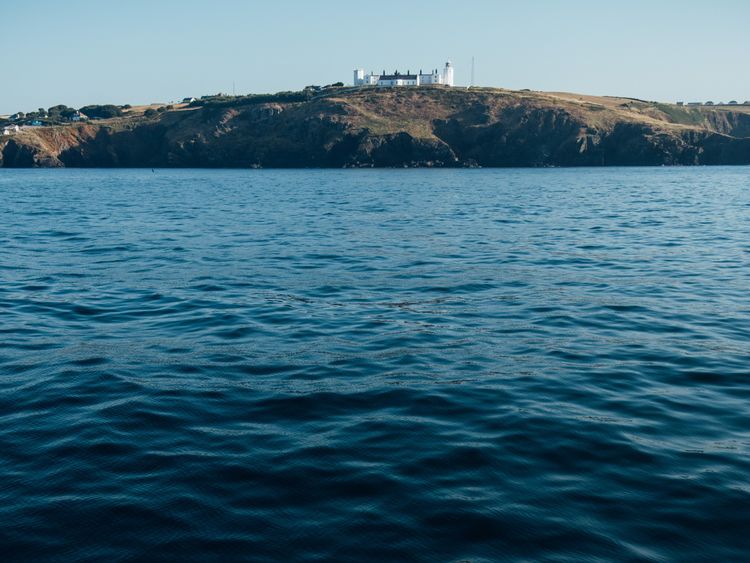 Although our images show me swimming straight towards the rocks, the tide was actually perpendicular, pushing me 90 degrees sideways.
Big up to skipper Stephen Praetorius, who navigated our craft and me safely through on the morning spring tide.
I have never experienced such strong currents. It was like swimming in a flooding river.
This evening swim then started well – we saw pods of dolphins and a sunfish – but after that it didn't go to plan.
I started swimming on the wrong current, which made me swim even slower than I would have done if there'd been no current at all.
After struggling against counter-eddies for nearly an hour and a half I had covered only a couple of kms.
I made the call to stop and try again first thing in the morning – a move we had not planned. This means we couldn't motor to Falmouth for the evening to replace our water, power and get food.
There was a 4°C water temperature drop through the currents of Lizard Point, down to a chilling 12°C. Our chef, Denise made the best hot chocolate to warm me up afterwards. pic.twitter.com/OPNjzM2aJo

— Lewis Pugh (@LewisPugh) 15 July 2018
We have now run out of water and are on our emergency supply bottles, having anchored in the small village of Coverack.
The plan for tomorrow is to do a swim early to make up for the lost time.
:: Day three – 9 miles (14.5km)
Glassy sea on a beautiful Saturday in Mounts Bay, with a perfect spring tide current, which helped propel me toward Lizard Point.
The crew continued fine-tuning the jellyfish watch and are now on a rota. It is difficult to keep focus after 20 minutes and very easy to be hypnotised by the motion of the sea and you glaze over in the glare.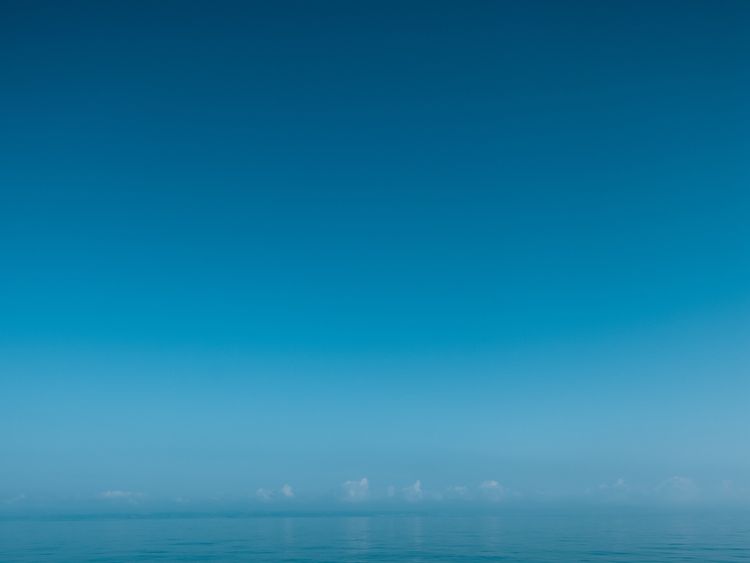 I have an active mind while swimming and I like to keep track of my thoughts. Occasionally I stop to shout a word or phrase for the crew to write down – something to trigger my memory later.
The stream of consciousness can get quite interesting!
Today was the first time we have encountered big ships – there was a row of three oil tankers anchored on the eastern end of the bay.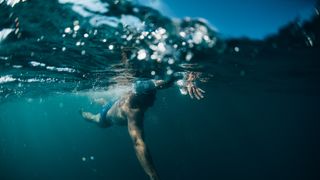 Now heading back to Mullion Cove again, we will be heading back out in the late afternoon to pick up the GPS point for the evening swim.
Overall, a phenomenal morning swim and it feels as though we are banking kilometres. All happy on board.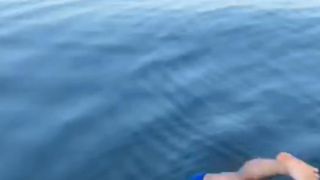 I am back in the water this evening and hopefully this will take us to the edge of Lizard Point.
This evening was all about the Lizard.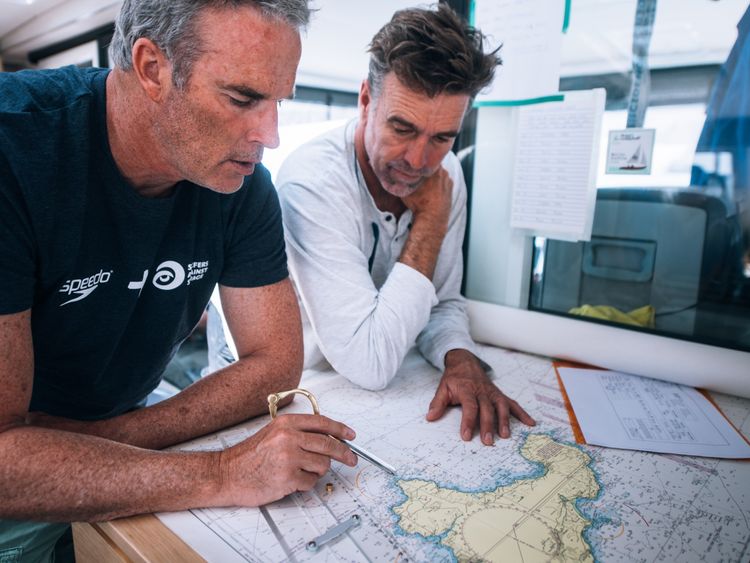 Do we shoot it tonight, making the best that the spring tide can give, or do we take a measured approach and leave it for the morning?
Today's swim was shorter, but fast, sometimes I was swimming at over four knots – that's 7.2 kph.
Overall another happy day, as we say goodbye to Mounts Bay.
:: Day two – 8 miles (12.8km)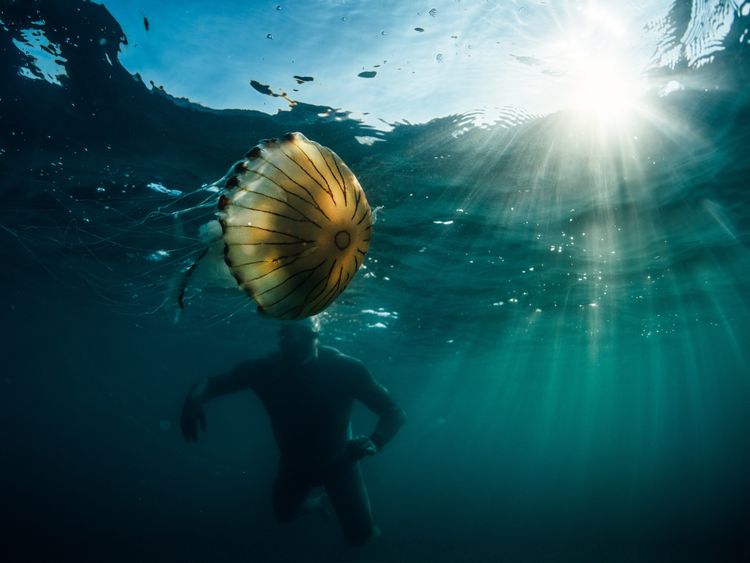 Another two good sessions in the morning and evening, in very fair conditions. I will be doing two swims a day and slingshotting around Land's End.
I had a few periods of jellyfish activity – the biggest we saw was longer than our shortest crew member.
I was stung on my arms, which we treated with vinegar after I got out of the water – it made me smell of fish and chips!
We ended up setting up a jellyfish watch, with spotters armed with whistles.
:: Day one – 6 miles (9.8km)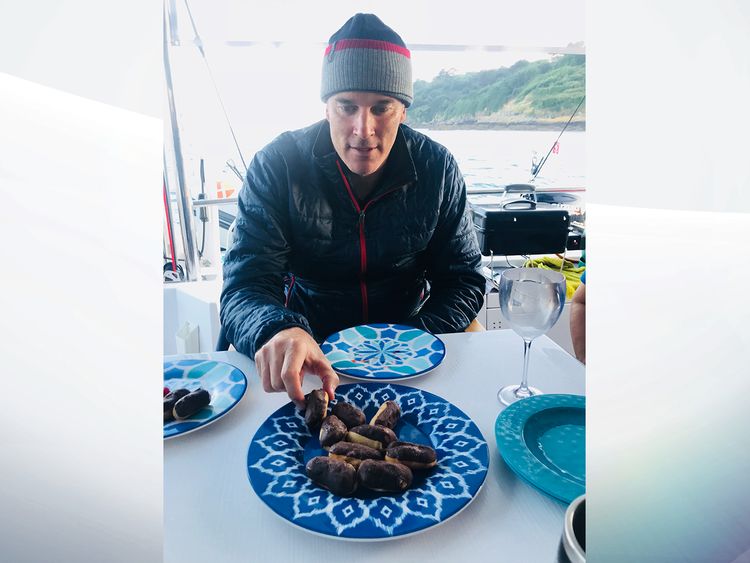 Today was a day of ironing out the swim procedures. This involved working out communication between me in the water and my team, adhering to the verification protocols, working out actual distance covered versus distance swum – it's difficult to swim in an exact straight line.
In total I manage to cover 6 miles (9.8km) of my journey, although this is less than the actual distance I swam.
This was the first day when all nine members of the campaign were on board, and over the next few days we will learn much about the teamwork and processes that will help us get through the entire expedition.
Another first today was my first jellyfish sting. It got me right on the crotch.
We ended the day by sitting at anchorage just off Mousehole, finishing up dinner and getting in an early sleep before we move back to the GPS point at 4.30 am for the next swim at 6.00am.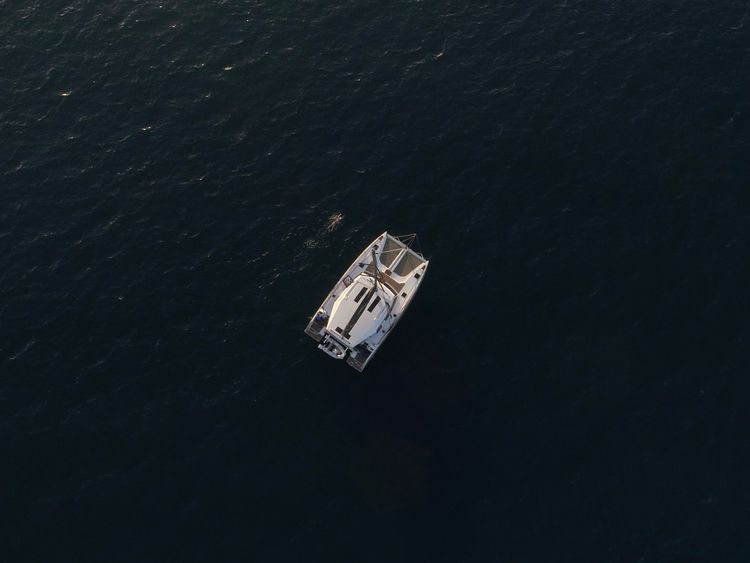 :: The eve of the swim
You are either a pioneer or a follower; you can't be both. And if you are a pioneer, you know all about worry.
If something has been done before, you know it's possible. If you don't know something is possible, you worry about it.
I'm about to embark on a swim with significant risks and consequences – financial, reputational and environmental. So there hasn't been a night in the last month that I haven't woken up.
A few nights ago I was using the worry hours to plan, and remembered something Mike Tyson once said: "Everyone's got a plan until they get punched in the mouth."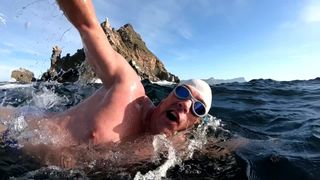 I have a plan to try and swim 10km per day. But when I swim into my first bloom of jellyfish, that plan will become flexible.
I know that I'm going to get sunburnt. I'm going to be frozen, I'm going to be stung, and I'm going to become mentally and physically exhausted. Have I done too much preparation, or not enough?
What if we get the tides wrong, get caught in a counter eddy and find ourselves going backwards? This is a notoriously dangerous coastline, with the shipwrecks to prove it.
Did I mention that half my expedition team is new, and half has no sailing experience?
In those waking worry hours I also remembered the Stockdale paradox.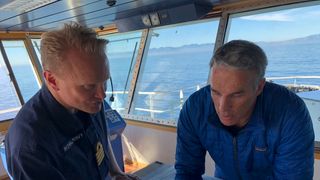 Admiral Stockdale was an American pilot who was shot down in Vietnam and spent eight years in a POW camp. He said that the people who survived had two important qualities.
First, they always believed they would be freed. Second – and this is the paradox – they had no optimism. Because the people who did have optimism – the people who hoped they would be free by Easter, then by Thanksgiving, then by Christmas, and had those hopes dashed over and over again – those people didn't survive. The people who survived were the ones who confronted the brutal reality of their situation.
I have to face some brutal facts when I look at the chart of our 560km swim route. This is the longest swim anyone has ever done, adhering to Channel Rules in water this low temperature. I honestly don't know how I'm going to do this. But I do believe I'll see the white cliffs of Dover. So that's the paradox that's going through my mind.
The swimming is only part of the challenge. We've also had to co-ordinate with sponsors, raise funds for the expedition, recruit the right people for the team, and deal with the media… all the while juggling private lives with unexpected domestic crises.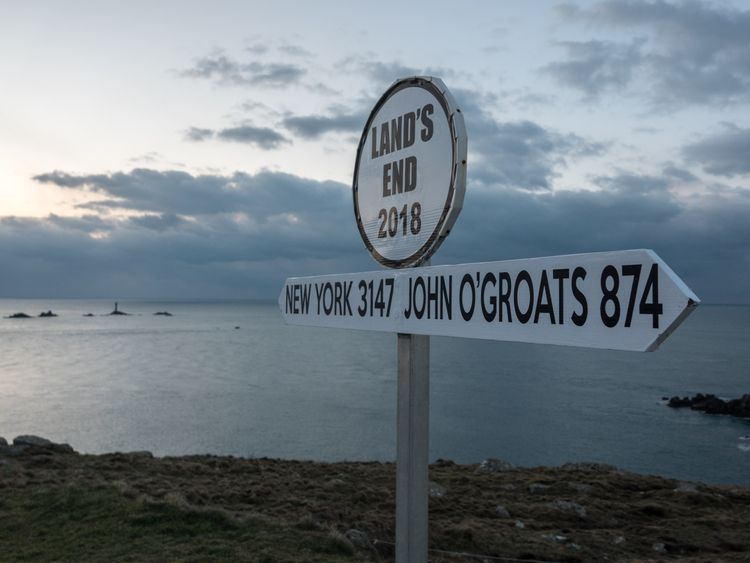 As if all that wasn't enough, after six months of campaign planning and preparation, we learned that Donald Trump is coming to London on the day I start swimming. We certainly hadn't planned on such a big media story distracting from our message.
Because the message is the reason I am doing this swim. The truth is we are failing our oceans. And it's only through bold and courageous action that we're going to be able to protect them properly. "Piecemeal" protection is not going to safeguard our seas. We need an enormous shift in business and government and the public to be able to do this.
There are challenges ahead. But as English Channel crossing pioneer Captain Webb said, nothing great is ever easy.
I'll keep that in mind as I strike out for Dover.
More from Lewis Pugh
:: Follow Sky News from Thursday 12 July for updates on Lewis Pugh's progress
:: Sky's Ocean Rescue campaign encourages people to reduce their single-use plastics. You can find out more about the campaign and how to get involved at www.skyoceanrescue.com