Hotter than Ibiza: Temps of 25C forecast for the UK
It's time to dig out the T-shirts, shorts and flip-flops, with temperatures in the UK forecast to be hotter than Ibiza this week.
It will start to seriously heat up from Wednesday with temperatures reaching and possibly even exceeding 25C (77F) by Thursday, particularly across southeastern areas.
Ibiza's weather will pale in comparison with temperatures of about 21C (70F) – and the UK will even put Barcelona and Istanbul in the shade, where a mere 18C or 19C (64F to 66F) is expected.
Although the summer-like temperatures will be above average for this time of year, Sky weather presenter Nazaneen Ghaffar says they are not unexpected.
She added: "This is welcome news for those who thought spring warmth was never to come, especially after the cool and cloudy conditions last week.
"It's not unusual for the weather to be so changeable this time of the year, as spring is a transitional season between winter and summer.
"The unusual thing was the positioning of the jet stream, a fast current of air high up in the atmosphere that separates warm and cold air and determines the position and strength of low pressure systems.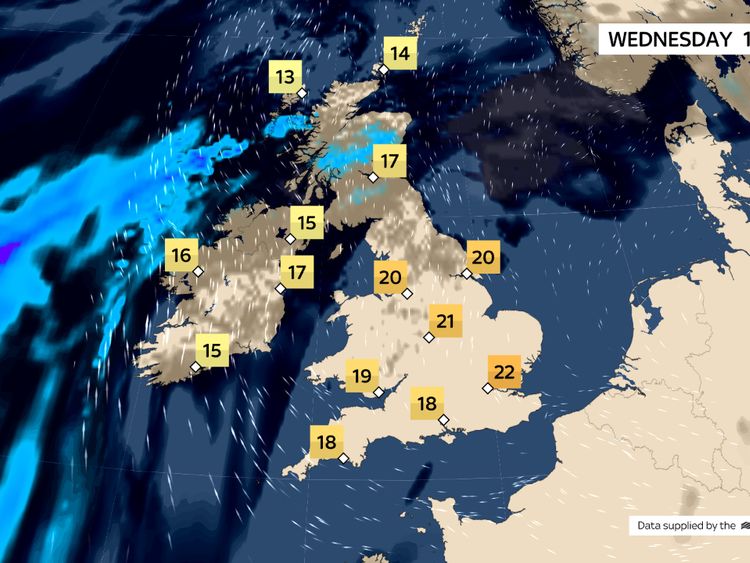 "Last week it had moved as far south as the Mediterranean and North Africa, where it was wet and windy. That meant the UK was influenced by colder air, with high pressure situated across Scandinavia allowing easterly winds to develop. That easterly flow was the main culprit for the cloudy skies and murky conditions.
"This week, the jet stream returns north. For the first few days rain will affect many northern and western areas, but from Thursday most places will be mainly dry with bright or sunny spells as pressure starts to build.
"We'll import warmer air from southern Europe which could see temperatures rise to around 25C across parts of the South East as well.
More from UK
"Elsewhere, it will feel warm too with temperatures in the high teens to the low 20s."
The UK's bitterly cold start to the year finally came to an end last week with a brief warm spell near the tail end of the Easter holidays – a tease for the sunnier blue skies to come.